assalamu aleikum
Something I want to share about cooking .
I love to make healthy food ,less fried food ,and less oily food .I like to use a lot of vegetables when cooking .
There is some very helpful thing I recently discovered. And its a Pressure cooker .
Well, I found it at home .It was a wedding gift and I never knew how to use it ,until after I did some research and was really amazed how simple it is to use and how healthy your meals would be.The meals that would take normally to cook an
hour would take only 20-30 min in pressure cooker .Plus you don't have to run and check your food all the time.I guess its very helpful when you are busy with kids or other staff .
Its also very inexpensive .
The one I have is very simple pressure cooker,that looks like this
You can find it in target store for only $32.99

There is a very simple recipe I found online

.I made this yesterday for dinner .It was very delicious and so simple to make .

It is a chicken with potatoes ,red bell peppers ,tomatoes and coriander

The recipe is by
Suzanne Gibbs
click on the link ,its a youtube video .I cannot upload it here for some reason,but I really like that recipe
Also ,I would recommend to get a Pressure Cooker book .It gives good tips and recipes ..

I'm planning to order one .

Here the books that I found on amazon.com

This one is from Barnes and Noble
http://search.barnesandnoble.com/The-Pressure-Cooker-Cookbook/Toula-Pasoulis/e/9781557881892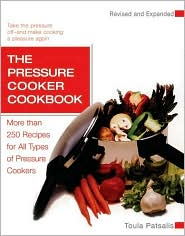 Please share your experience and recipes ,it would be really nice to hear from you ...
waaleikum salam